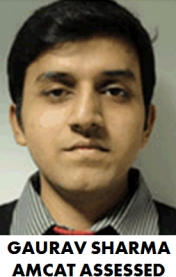 Aspiring Minds: Tell us something about yourself.
Gaurav: I did my graduation from Shaheed Bhagat Singh College, University of Delhi. Before joining Z.S Associates, I was working with one of the top professional services firm. Working more than a year at the first organization, I decided to switch over to another company.
Aspiring Minds: How did you got to know about AMCAT, when did you decide to appear for the same?
Gaurav: It had been more than 14 months at my previous organization when I decided to switch over. One of my friends had appeared for AMCAT and got selected for Bank of America through it. So I too decided to appear for AMCAT. I checked their website www.myamcat.com and booked a test slot at one of their test centers.
Aspiring Minds: Tell us about the interview experience at Z.S Associates
Gaurav: I was well-prepared for the interview with the Z.S team. Since I had a prior work experience, the questions primarily were on the work I'd done and the things I learnt there. It's been 2 months now working at Z.S and I must tell that the journey has been worth!
Aspiring Minds: Would you like to share some tips with the fellow AMCAT takers.
Gaurav: I would say that AMCAT is the perfect platform for kick starting your professional career. I don't see any other opportunity as big as AMCAT for freshers. Moreover, it is extremely tough for a graduate student with a non-engineering background to get a job in the industry, but with AMCAT I guess even that's possible!
Gaurav Sharma.
Delhi University, 2011 Batch
Hired by Z.S Associates
Click here to read Success stories of AMCAT takers! Read how more than 80,000 AMCAT-assessed candidates get interview calls each month: click here