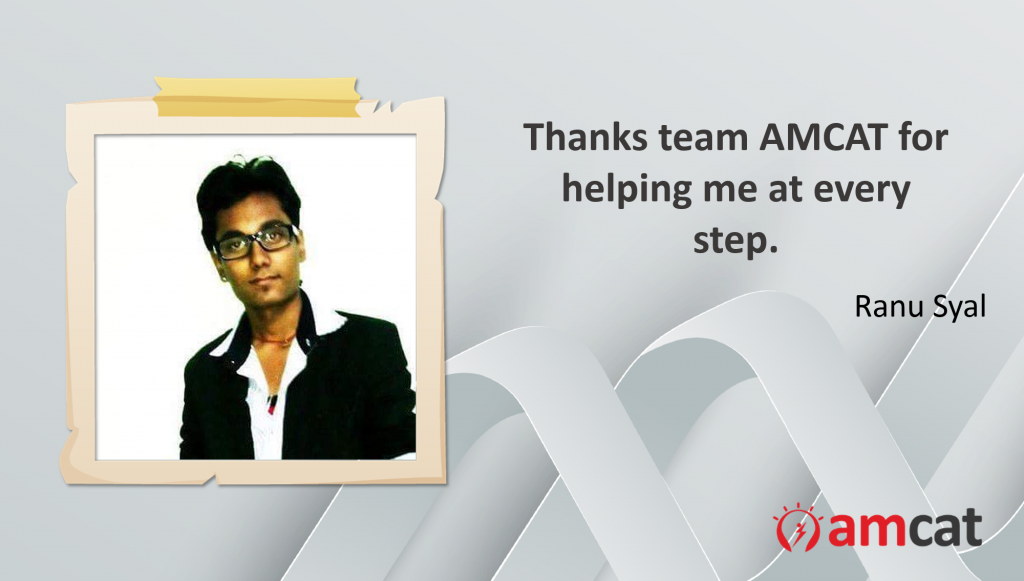 Isn't it tough to get a fresher job in a good company with the right job profile at the beginning of your career?
Meet Ranu Syal, a fresher from Rawal Institute of Engineering and Technology and know how he managed to kick-start his career in the IT industry and nab an opening with Tavant Technology.
Q: Tell us something about yourself and your career goals.
Hi, My name is Ranu Syal. I love coding and have been doing it for a long time. I always wanted to work with a company where I can use my coding abilities as much as possible.
Q: What difficulties did you face while searching for a job and how did you overcome those difficulties?
I was on my job hunting spree and tried very hard but was not able to get interview calls. Everywhere either experienced or referred candidates were given preference. That was a very depressing time but it was soon over after I decided to take the AMCAT test.
Q: How long did it take to get your 1st interview call after AMCAT?
It just took around ten days after the AMCAT results to get my 1st interview call.
Q: Tell us about your experience post giving the AMCAT test and how AMCAT helped you in getting the job at Tavant Technology?
The experience after taking AMCAT was extraordinary. As I mentioned above, within a time span of 10 days, the interview calls started coming. I was supremely excited. Tavant Technology was the 3rd company that approached me. After several interview rounds, I got selected. A big thank you to the team AMCAT.
Q: How many interview calls did you get after taking the AMCAT?

I got around 6-7 interview calls. There was a problem of plenty after taking the AMCAT test.
Q: Would you suggest other job seekers to take AMCAT? If yes, why.

Yes, I suppose every fresher should take the AMCAT test, because AMCAT provides a wonderful job platform for the freshers especially for those who are from small towns where exposure is very less.
Q: Would you like to share some tips which can help other job seekers in getting a good job?

Be confident and focus on your core and communication skills. Take the AMCAT test. But, remember AMCAT can provide you the platform but during the interview, you have to prove yourself. So be prepared.
Want to give a right start to your career? Take AMCAT and get a step closer to your dream job!