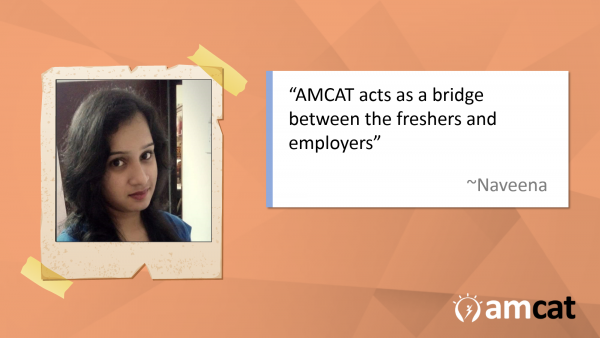 Meet Navneena, a fresher from the TKR College of Engineering and Technology and know how she managed to kick-start her career in the IT industry and nab an opening with Mindtree.
Q: Tell us something about yourself and your career goals.
Hi, My name is Naveena. I am a very career oriented and ambitious person. My career goal is to work with a good brand and reach the apex of success.
Q: What difficulties did you face while searching for a job and how did you overcome those difficulties?
My job search was pretty easy. AMCAT was there for me. I sincerely thank AMCAT for helping me get my dream job.
Q: How long did it take to get your 1st interview call after AMCAT?
20 days

Q: Tell us about your experience post giving the AMCAT test and how AMCAT helped you in getting the job at Mindtree?
My experience after taking AMCAT test was quite amazing. My job hunt was not that difficult because of AMCAT. It helped me at every step – from start (aptitude test) till the end (interview). AMCAT has an ample amount of job opportunities for freshers.
Q: How many interview calls did you get after taking the AMCAT?

More than 30 calls.
Q: Would you suggest other job seekers to take AMCAT? If yes, why.
Of-course, yes. Freshers must take this test. This is the perfect gateway for the fresh graduates to get a step closer to their dream job. It acts as a bridge between employers and freshers.
Q: Would you like to share some tips which can help other job seekers in getting a good job?
Be confident. Be positive. Work on your technical and communication skills. Most importantly, take AMCAT and you are sorted! All the very best 🙂
Navneena is not the only one – read how many aspirants landed their dream jobs just by taking AMCAT. Why don't you give it a shot?