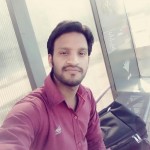 "I improved my technical and communication skills with the help of AMCAT feedback and got selected in Mindtree."
Ajay Kumar, Arya Institute Of Engineering And Technology, 2015 Batch
Hired by Mindtree
Aspiring Minds: Tell us something about yourself and your career goals.
Ajay: My name is Ajay Kumar Shakya. I completed my B.Tech from Arya Institute of Engineering and Technology in 2015. My aim is to become a successful and skilled software engineer.
Aspiring Minds: What difficulties did you face while searching for a job and how did you overcome those difficulties?
Ajay: I did not face too many difficulties as I had already taken AMCAT. The test was very helpful as it helped me identify which of my skills are weak or strong and I could accordingly take steps to improve and enhance them. I improved my technical and communication skills with the help of AMCAT feedback and got selected in Mindtree. I owe my success to AMCAT.
Aspiring Minds: Tell us about your experience post giving the AMCAT test and how AMCAT helped you in getting the job at Mindtree?
Ajay: Before taking AMCAT I was not aware of my strengths and weaknesses, and hence I did not know on what areas should I focus more on and what kind of jobs would be suitable for me. After taking AMCAT, I could understand the next steps I should take to work towards a successful career.
Aspiring Minds: Would you suggest other job seekers to take AMCAT? If yes, why
Ajay: As AMCAT gives us a full analysis of our skills, it plays a vital role in improving our overall skill set including technical and communication skills. I would recommend AMCAT to every job seeker for a better understanding of their capabilities.
Aspiring Minds: Would you like to share some tips which can help other job seekers in getting a good job?
Ajay: Prepare well. Be confident during the interview. Don't ever try to manipulate the interviewer and if you don't know the answer just say no. All the Best! 🙂