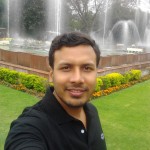 "I could improve my communication skills with the help of AMCAT and got a job with Fareye"
Rahul Kumar, Sharda University, 2015 Batch

Hired by FarEye
Aspiring Minds: Tell us something about yourself and your career goals.
Rahul: In simple words, my goal is to grab some good work experience while learning on the job as I aim to start my own company.
Aspiring Minds: What difficulties did you face while searching for a job and how did you overcome those difficulties?
Rahul: Initially, I lacked confidence due to which I lost a few job opportunities. I got the confidence to perform well at work after improving my communication skills.

Aspiring Minds: Tell us about your experience post giving the AMCAT test and how AMCAT helped you in getting the job at FarEye?
Rahul: AMCAT is for all those students who have talent but do not get the opportunity to showcase their talent. AMCAT is the platform which helps showcase our abilities to several companies. I give full credit to AMCAT for my selection in FarEye.
Aspiring Minds: Would you suggest other job seekers to take AMCAT? If yes, why.
Rahul: Yes, because AMCAT is like an ocean of opportunities especially for freshers.
Aspiring Minds:  Would you like to share some tips which can help other job seekers in getting a good job?

Rahul: I would suggest students to first take AMCAT. Also, interviewers check your confidence and smartness during the interview so always be confident.