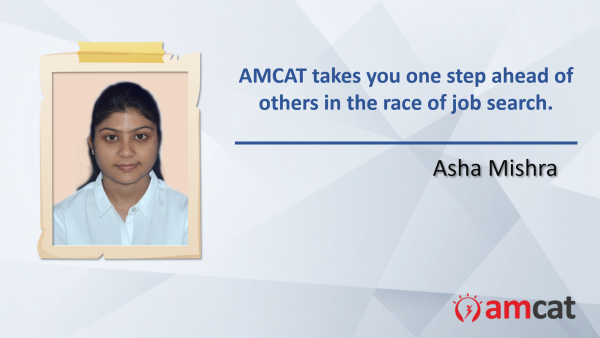 A B.Tech degree is not a guarantee for a good fresher job in Top IT companies in this tough job market.
Meet Asha, a fresher from NSHM Knowledge Campus and know how she managed to kick-start her career in the IT industry and nab an opening with Accenture.
Q: Tell us something about yourself and your career goals.
My name is Asha Mishra. I'm a B.Tech in Computer Science and Engineering. Like most ambitious young students, I want to start my career with a reputed IT company and move up the corporate  ladder with my experience and hard work
Q: What difficulties did you face while searching for a job and how did you overcome those difficulties?
I gave many interviews but due to several reasons, I was not getting selected. That was a very depressing phase of my life. But, I would like to thank AMCAT for helping freshers like me and giving that ray of hope when nothing seems to work. It was because of AMCAT I got placed in Accenture.
Q: How long did it take to get your 1st interview call after AMCAT?
It took almost two months for my first interview call.
Q: Tell us about your experience post giving the AMCAT test and how AMCAT helped you in getting the job at Accenture?
Before taking AMCAT, I had no idea where I was moving forward to, but then AMCAT happened. The experience was amazing right from day 1. The AMCAT team provides you with the detailed feedback which helps you know your positives and negatives.
Q: Would you suggest other job seekers to take AMCAT? If yes, why.
Definitely. As I said, it takes you one step ahead of others in the race of job search.
Q: How many interview calls did you get after taking the AMCAT?

I got three interview calls after taking the AMCAT. I was able to convert my interview at Accenture and that is where I've decided to start my career.
Q: Would you like to share some tips which can help other job seekers in their job search?
Be confident and arm yourself with knowledge. Score well in AMCAT and you are sure to get the job that you always wanted.
Asha is not the only one – read how many aspirants landed their dream jobs through the AMCAT job opportunities platform or built on their results to get them.