Finding a job amidst the coronavirus pandemic has become a hustle for many freshers. AMCAT assessment is an exceptional tool to not only search for jobs but also to examine one's competence for various work opportunities.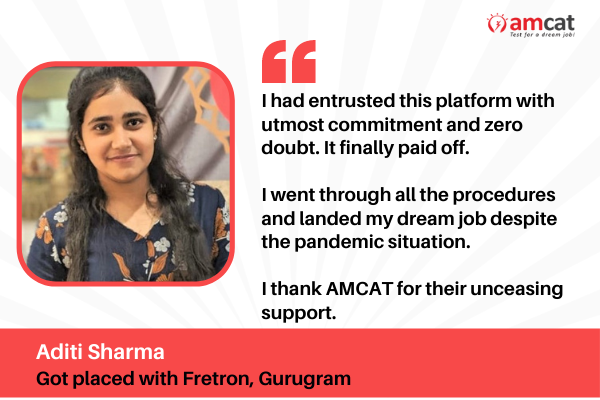 We recently had a worthwhile interaction with our candidate, Aditi Sharma. She walked us through her job search journey with the AMCAT assessment. Entrusting the examination, she exhibited committed efforts to get the job of her dreams.
Let's find out how she made it. Scroll down to know more.
What made you opt for AMCAT?
"I think the ease to use this platform is exceptional. It is therefore quite user-friendly. There is no hassle during registration, examination or the result phase. It rather offers unceasing assistance throughout every stage." said Aditi.
Did you face any difficulty while looking for a job with the AMCAT assessment?
"Honestly, I didn't face any difficulty while looking for a job through the AMCAT exam. Along with that, I would like to emphasise the fact that it has truly stood out for me during the pandemic. AMCAT assessment's exceptional support had brought down so many inhibitions regarding the job uncertainties during these challenging times."
She added, " I had entrusted the platform with utmost commitment and zero doubt. It finally paid off. I went through all the procedures and landed my dream job."
Do you want to register for AMCAT. Click Here to book your slot.
Tell us about the company you got placed with.
"I am happy to share that I am placed with Fretron, Gurugram. I feel that this is a very good company especially for freshers to    kickstart their career."
What are your views on the AMCAT report? How did it help you assess your performance?
Aditi said, "The feedback report is yet again a substantial resource offered by AMCAT. I have seen that this kind of report is rarely provided and many aspirants go baffled without knowing the reason behind their application rejection."
"Thus, AMCAT assessment is doing a great job in bringing transparency through this comprehensive delineation at its forefront. It provides an in-depth insight into one's strengths, weaknesses and a lot more."
She described the advantages as follows:-
i. Sectional and Overall performance,
ii. Job eligibility,
iii. Chances of selection,
iv. Job eligibility according to the sectional performance, etcetera.
Click Here to book your AMCAT slot.
Would you recommend the AMCAT assessment to others?
Of course yes, It has immensely helped me assail through the pandemic so smoothly. Finding a job was a struggle before but with a good performance in the AMCAT  assessment, it becomes a cakewalk. Therefore, I will recommend it to my friends as they have no idea the vast amount of opportunities that lie ahead of them. Thank you AMCAT.
It was truly a valuable discussion with our candidate Aditi Sharma. We are happy to see her starting her career with us. We wish her all the success ahead.
All the best
Get in touch!