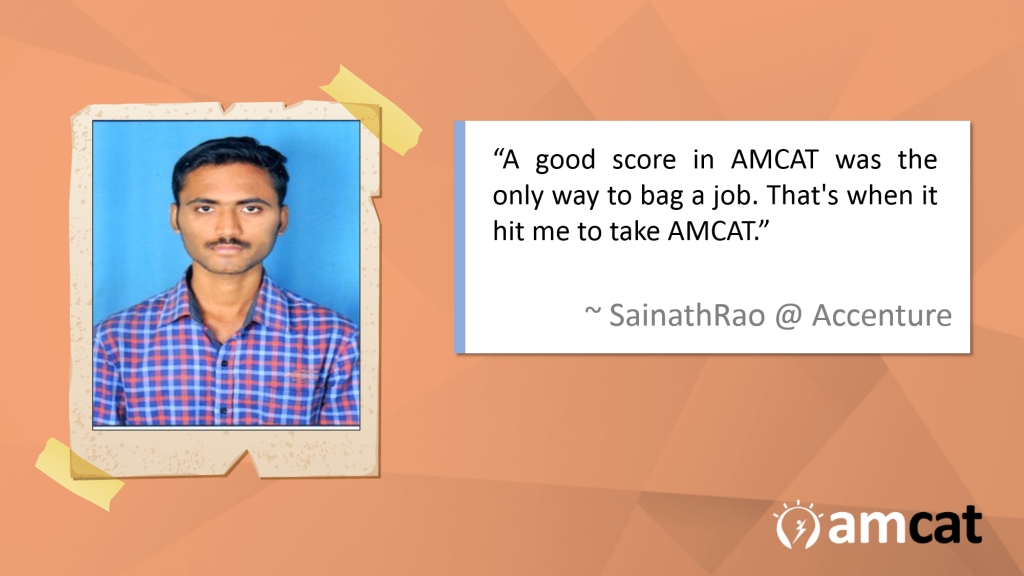 Hear out SainathRao from MS Ramaiah Institute of Technology has to say about his job search journey and how he managed to bag a job at Accenture.
Q: Tell us something about yourself and your career goals.
My name is SainathRao and I am basically from Karnataka. My career goal is to become a software engineer in a big IT firm.
Q: What difficulties did you face while searching for a job and how did you overcome those difficulties?
After completion of my graduation, I was really worried about my future as I failed miserably in the campus recruitments. At that time one of my friends suggested me to take AMCAT and I can't thank him enough.
Q: How long did it take to get your 1st interview call after AMCAT?
After taking AMCAT, I got my first interview call within 15 days.
Q: Tell us about your experience post giving the AMCAT test and how AMCAT helped you in getting the job at Accenture?
AMCAT is really good for job seekers because it provides you a lot of job opportunities based on your positives. Because of AMCAT, I was directly called up for the Accenture interview rather than going for written test first.
Q: How many interview calls did you get after taking the AMCAT?

After taking the AMCAT test, I got nearly 15-20 interview calls.
Q: Would you suggest other job seekers to take AMCAT? If yes, why.
I would suggest every job seeker to take AMCAT test because it provides an ocean of opportunities. All the best guys!
Do you feel ready to give it a try? Then schedule an AMCAT test today.