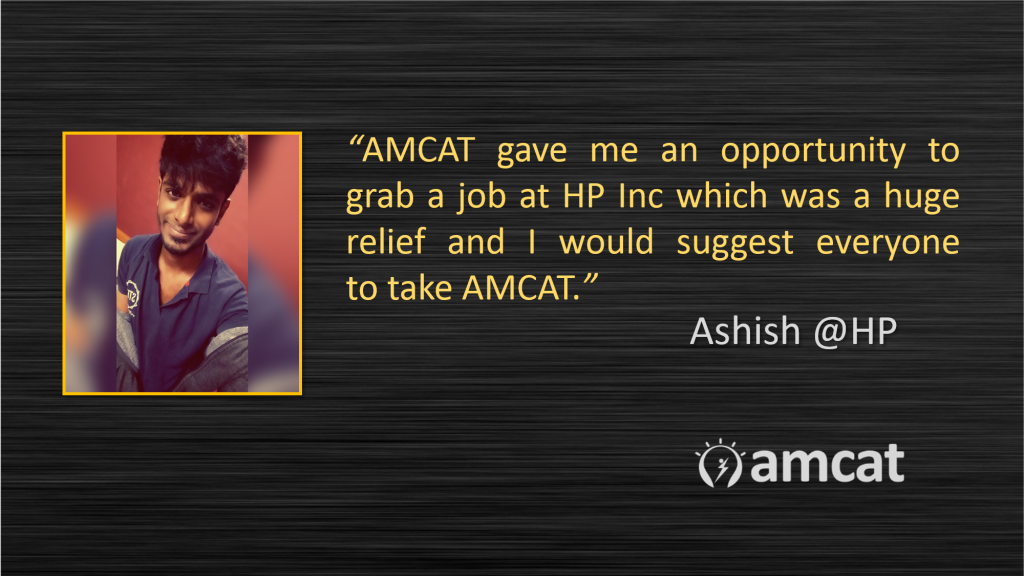 Getting a good fresher job at the beginning of your career seems quite difficult. Isn't it?
Meet Ashish Ninan Cherian from St. Joseph's College of Engineering and know how he managed to kickstart his career in this tough job market.
Q: Tell us something about yourself and your career goals.
My name is Ashish Ninan Cherian and I am from Chennai. I am perusing my Bachelor's in Engineering from St. Joseph's College of Engineering and want to go into Data Analytics field.
Q: What difficulties did you face while searching for a job and how did you overcome those difficulties?
As I had a few backlogs to clear, it was always difficult for me in on campus situations. I know I have talent but I had very few opportunities to show them to recruiters. AMCAT gave me chance to showcase my talent to recruiters.
Q: How long did it take to get your 1st interview call after AMCAT?
I tried for different off-campus opportunities and on-campus opportunities. I totally attended 2 placement drives. I started applying through AMCAT and in a space of 8 months, I got 8 interview opportunities.

Q: Tell us about your experience post giving the AMCAT test and how AMCAT helped you in getting the job at Accenture?
My AMCAT scores were a proof of the fact that knowledge can be obtained irrespective of the other factors that often hinder ourselves. AMCAT shortlisted me based on my scores for the HP Inc placement process in Bangalore
Q: How many interview calls did you get after taking the AMCAT?

I got 8 interview calls after taking AMCAT.
Q: Would you suggest other job seekers to take AMCAT? If yes, why.
AMCAT gave me an opportunity to grab a job at HP Inc which was a huge relief and I would suggest everyone to take AMCAT.
Q: Would you like to share some tips which can help other job seekers in getting a good job?
Stay confident and be sure to be in tune with the latest technology globally. It helps during the interview stages.
Do you feel ready to give it a try? Then schedule an AMCAT test today.