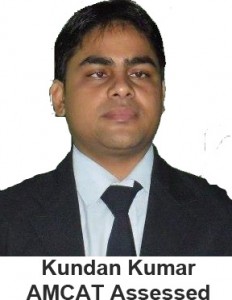 Aspiring Minds: Tell us something about yourself and your career goals.
Kundan: My name is Kundan Kumar and I am from Patna, Bihar. I passed ICSE with 80% from Ranchi and 12th with 69% from H.M.H.S, Patna. I completed my B.Tech in EEE from West Bengal University of Technology in 2013. My Goal is to Pursue MBA in Marketing and be a leader in my field.
Aspiring Minds: What difficulties did you face while searching for a job and how did you overcame those difficulties?
Kundan: It was very tough time searching for job after graduation. Finding a good platform in any field is very difficult. I was disheartened watching my resume getting rejected, even without being noticed. Then AMCAT provided a platform from where I started getting job opportunities to work in some good companies.
Aspiring Minds: Tell us about your experience post giving the AMCAT test and how AMCAT helped you in getting the job at Bulk Email SMS India?
Kundan: I got a call from AMCAT regarding Job suiting my profile and went for an interview with Bulk Email SMS India. It was a hassle free drive and I was impressed with co-operation from AMCAT at each and every step.
Aspiring Minds: Would you suggest other job seekers to take AMCAT? If yes, why
Kundan: AMCAT is like an anchor to the ship for a fresher student. It hold our hands and takes us on the right path. After passing out from college, students have least knowledge about Market, so they roam aimless and frustrated, negativity overpowers all the positive energy. So, to protect your positive power and strength, it is a good option to take AMCAT and wait for interview calls.
Aspiring Minds: Would you like to share some tips which can help other job seekers in getting a good job?
Kundan: There is no alternative to hard work. I would just like to say wait for right time and keep hope. Luck, labor and chance clicking altogether will land you at right place. BEST OF LUCK!!

Kundan Kumar, Camellia Institute of Technology, West Bengal. 2013 batch
Hired by Bulk Email SMS India