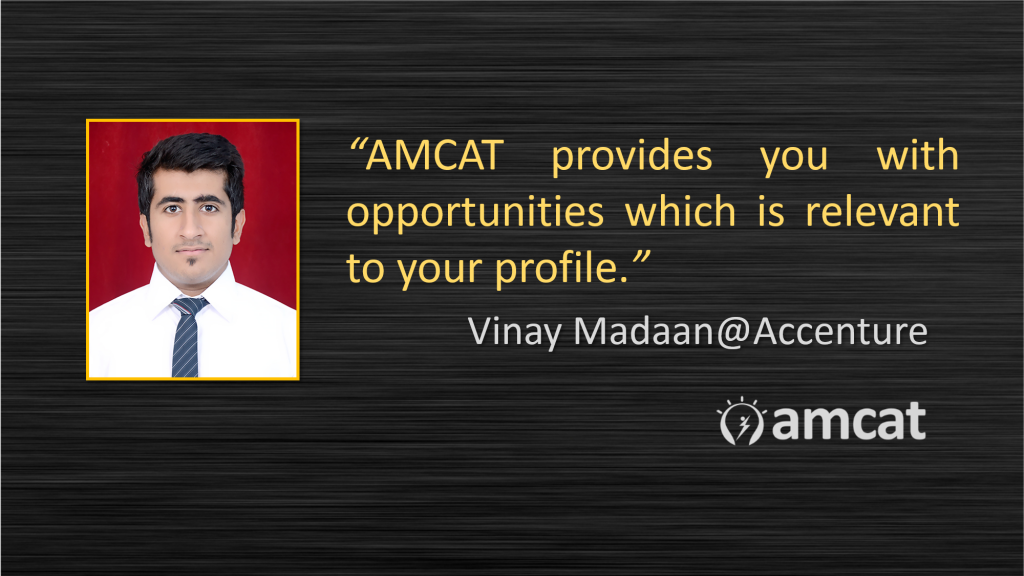 'I got calls from top MNCs taking up the AMCAT test', says AMCAT achiever Vinay Madaan from Manav Rachna College of Engineering who is hired by Accenture based on his good AMCAT scores.
Q: Tell us something about yourself and your career goals.
My name is Vinay. I have completed B.tech from Manav Rachna College of Engineering, Faridabad in Electronics and communication. It is my dream to work with a top MNC of the world. And, thanks to AMCAT my dream came true.
Q: What difficulties did you face while searching for a job and how did you overcome those difficulties?
The biggest problem was getting a suitable profile. It was actually tough to get a core job as I'm from ECE so the best option was to get into an IT and finally I was able to overcome this difficulty with the help of AMCAT test and got many opportunities, but I was a bit choosy about the profiles I was offered.
Q: How long did it take to get your 1st interview call after AMCAT?
Within a month I got a call for an interview after taking AMCAT.
Q: How many interview calls did you get after taking the AMCAT?

I got around 10-12 job interview calls through AMCAT and the best part is all of those calls were relevant to my interest.
Q: Would you suggest other job seekers to take AMCAT? If yes, why.
Yes, definitely without a doubt, as I said earlier AMCAT provides you with opportunities which is relevant to your profile.
Q: Would you like to share some tips which can help other job seekers in getting a good job?
First of all, attempt the test with full preparation and try to get a good score and be in touch with the AMCAT portal with the new openings to get the best from this employability test.
Do you feel ready to give it a try? Then schedule an AMCAT test today.