Featured AMCAT Module

Featured AMCAT Module: Aspiring Minds Personality Inventory (AMPI)
SVAR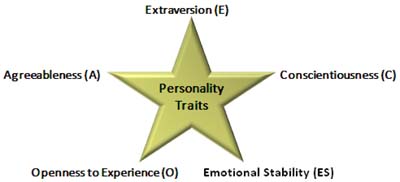 AMPI, Aspiring Minds' flagship personality assessment is based on the contemporary five-factor model of personality also commonly known as the "Big Five" model. It measures five broad traits: Extraversion, Conscientiousness, Emotional Stability, Openness to Experience and Agreeableness. International studies have shown the Big Five model to be the most effective model to predict job performance.
AMPI is being deployed as a selection filter and for internal workforce evaluation. Being India's most deployed Personality tool, over quarter a million candidates have been evaluated on AMPI for various job roles across different sectors. It is also useful in being able to predict success in roles spanning from sales, customer service, relationship management, collections, technical support, managerial roles, leadership, etc.
AMPI is uniquely constructed to remove cultural and linguistic biases and is ideal for developing economies. The tool works effectively in evaluating individuals who would have not faced job situations in the past and hence effective in evaluating entry level talent as well.
AMPI-Forced Choice
AMPI - Forced Choice is the forced choice form of AMPI. Based on the Big Five model measuring the candidate's personality on the five traits: Extraversion, Conscientiousness, Emotional Stability, Agreeableness and Openness to experience, the Forced Choice inventory has been developed in an attempt to reduce the effect of faking and social desirability. In this format, the candidates are presented with two statements, both equally desirable socially, making the candidate endorse one of them. Thus, by asking a candidate to endorse one of the two options, the item forces out, per se, the true inclinations and traits of the candidate. Since the candidate cannot make him/herself look good on both the statements, the faking tendency is reduced.
Forced-Choice Personality questionnaires have shown to have higher validity and reliability than the traditional Personality inventories. While AMPI-FC is aggressively used for certain entry hiring ROLES, such a testing strategy is also very suitable for assessing candidates at the mid-management to senior management level.