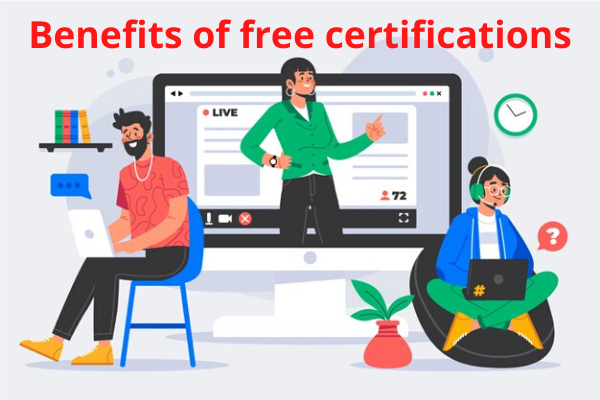 Many people are using this period of lockdown to hone their skills and give their job search an added advantage. Moreover, given the present circumstances, the already competitive corporate world is gonna be even more cut-throat. Therefore, now is the right time to complete relevant certifications and build a career which is thriving.
Free certifications courses are a great way to start. There are plenty of websites which give you free access to their certifications. For instance, If you buy AMCAT, then you can choose 1 certification out of 20 certifications for free.  Moreover, certifications provide validation to your knowledge and skillset when starting your job hunt.
Therefore, continue your education and invest your time and resources by completing relevant certification programs. Here are some of the benefits of completing certifications.
An edge during your job search
Certifications on your resume can make your candidature stand out from the crowd. Moreover, it is an indicator of your commitment towards your career and your thirst for knowledge. It gives you an added advantage during a job interview. If you have the advantage of certifications and the other candidates don't, then you have an edge over others and your chances of bagging the job offer get high. So, certifications help you give an edge to your job search.
Higher chances of getting good pay
It is rightly said that your time and effort will always give you fruitful results, the same is the case with certifications. Relevant and in-demand certification sometimes pay off by getting you a good salary package.
Cost-efficient
Google, Facebook, HubSpot and many other sites provide their users with free certification courses that they can get. Moreover, during festive season many paid certifications are put on discount or are given for free. So, the cost should not be a problem when thinking about doing certifications.
Up-to-date knowledge
Doing certifications are a great way to stay updated about what new is happening in your targeted industry. It will also help you get to know what new required skills are and will help you develop those skills. In addition to that, updated knowledge and techniques will increase your competencies.
Certifications are extra important for a field which is constantly changing and evolving. Moreover, certifications are a great way to show the recruiter how skilled and ready you are. It will help you sharpen your job search.
Certifications are a great way to stay on top of the trends, learning more about new development and identifying opportunities. It also gives your candidature an advantage which is very important in this competitive market. Therefore, complete certifications and give your job search a silver lining.