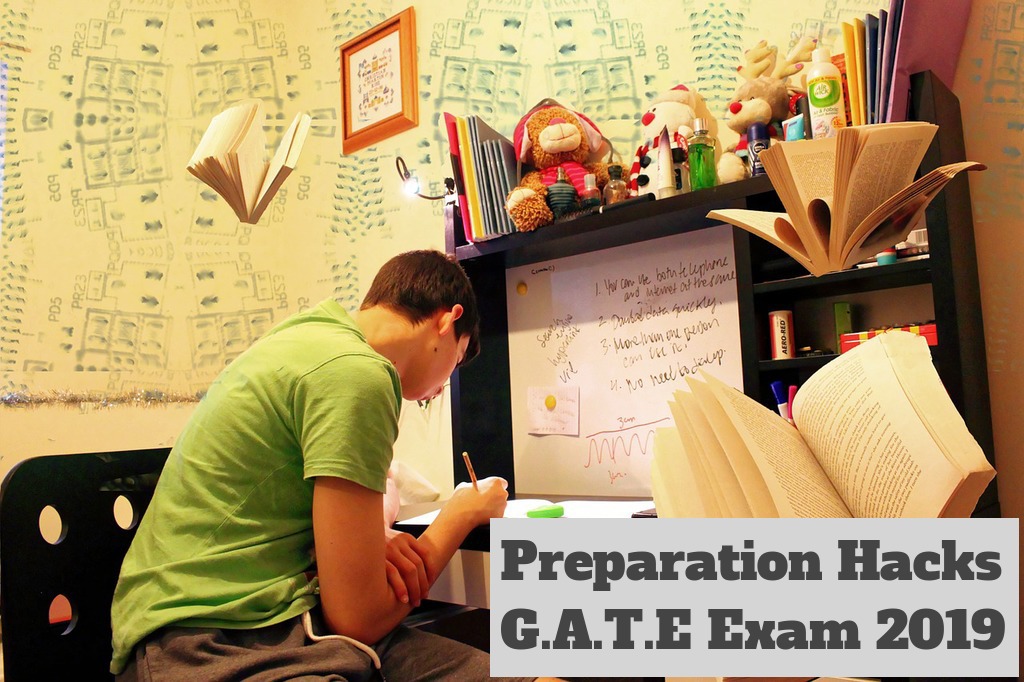 The GATE exam is very popular among engineering students and attracts hundreds and thousands of candidates each year. GATE opens a truckload of opportunities for the candidates who score well and no wonder wherever you turn your eyes, you can see new GATE coaching centers cropping up.
While these coaching centres do help you prepare well for the GATE exam and can aid you in scoring well in the GATE Exam 2019, the real effort has to come from your side. Coaching centres can only guide you so much but as long as you are not putting in some conscious efforts, you will fall short.
And, to ensure that you put your best foot forward, we have brought some very simple, yet very effective exam hacks to help you make sure of a strong GATE Exam 2019 preparation.
Let's take a look at all of them;
Break down the syllabus to revise
When you start preparing for the GATE exam 2019, you might be stumped by the huge syllabus and find yourself at loss. You might not know from where to start and most importantly, how to start. As such, the best thing to do would be to break down the syllabus in parts.
Divide it into topics which are light, medium and tough. Now divide your time accordingly, so that you have ample time for each of these topics. However, while the lighter topics might be known to you and easier, don't forget to work equally hard on them.
Go through the topic summary
Before you start reading up on any topic, go through its summary. Many books provide summaries of the topics in the start. If you don't find it there, then search on the internet or better still if there is any YouTube video on the topic, then watch that.
Knowing the summary will help you understand the topic more easily. Also, you will have a sort of an anchor to which you can come back when you need to revise the topic.
Summaries are easier to remember and can thus be the perfect gateway to any topic.
Make notes
People often underestimate the importance of notes in their exam preparation. When preparing for the GATE exam 2019, make sure that you make ample notes that you can come back to whenever required.
These notes don't have to be too detailed or wordy. You can jot down important points and the core concept and revise these notes every few days.
Also, make longer notes for formulas that you find hard to remember or questions that seem particularly tricky or tough.
Solve sample papers
It cannot be stressed enough that when looking to score big in the GATE Exam 2019, you need to practice and solve a lot of sample papers.
Also, solving sample papers is not enough. While you are at it, make sure that you are being accurate and speedy.
Speed and accuracy are the pillars of a great exam preparation and you need to build your structure around it. Your speed and accuracy will help you immensely during the final exam when you will feel the pressure of time and quick thinking.
Opt for Mock GATE tests
Mock GATE tests can be a brilliant way to test your speed and accuracy, flame it and get the experience of giving the GATE exam beforehand.
Mock exams like AM-GATE mock test are based completely on the pattern of the GATE exam and allow you to test your strengths and weaknesses.
With AM-GATE mock test, you can gain a better understanding of your how prepared you are and how much more effort is required.
Also, with AM-GATE Mock test, you will get to compete with students from various coaching institutes or candidates preparing on their own and pitch your result against theirs to see where you stand.
Know which topics are important
Whether it be GATE exam 2019 or any other exam for that matter, going through the previous years' papers can help you a lot.
Of course, you will get a taste of the exam pattern and the kind of questions being asked but you will also get a chance to figure out which topics are more important.
A good study of the previous years' papers will help you see which topics have been repeated and given a lot of weight over and over again and which have faced a little neglect. Now, these are the topics that you should work extra hard on.
Of course, since it is such an important you cannot take any risks and you should prepare other topics equally well.
Preparing for the GATE exam 2019 is no piece of cake. However, you can still make the most of it and score brilliantly with these simple exam preparation hacks. So, ALL THE BEST and keep preparing!
Get your access to AM-GATE Mock Test 2019 here