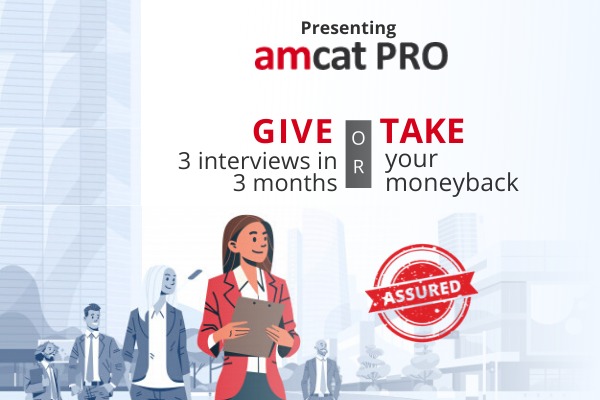 You must know by now that AMCAT is Aspiring Minds Computer Adaptive Test that connects job seekers to recruiters. However, while AMCAT does work wonders for our candidates (read the testimonials) it doesn't come with an interview assurance basis your AMCAT score like AMCAT PRO.
AMCAT PRO: The Interview Assurance Program by AMCAT is one of its kind program that makes sure that you win in every way.
What is the AMCAT PRO assurance
AMCAT PRO assures you a minimum of three interview offers in three months or moneyback. These interview offers will be basis your AMCAT score.

You need to score certain marks in each of the modules to qualify for the AMCAT PRO assurance. For example, if you get 600 marks in all the modules but 400 in one, then you will qualify for Bronze membership.
Similarly, if you score less than 400 in any of the modules then you will not be eligible for the AMCAT PRO assurance.
Wondering if AMCAT PRO is tougher than the regular AMCAT exam? Read this article to understand it better. 
Should you opt for AMCAT PRO
AMCAT PRO is a very unique product by AMCAT that gives you the assurance of minimum three interviews. When looking for a job, your focus needs to be on the best jobs available and AMCAT PRO brings you just that.
It curates the best opportunities and interview offers and sends them to you. That means, your focus needs to be solely on getting a good score in the AMCAT exam and preparing for the upcoming opportunities while AMCAT PRO takes care of everything else.
And, in case, AMCAT PRO is unable to get you the assured number of interviews, then you will get your money back. So, it's a win-win situation for you that you should grab with both hands.
Conclusion
AMCAT PRO is the sister product of AMCAT that assures you three interviews in three months or moneyback basis your AMCAT score. It is a win-win product for you that puts your career above everything else while also ensuring that if you qualify for the AMCAT assurance and still don't get the assured job interviews then you get your money back.
As such, you should opt for AMCAT PRO right away to give your career the push and assurance that it needs.