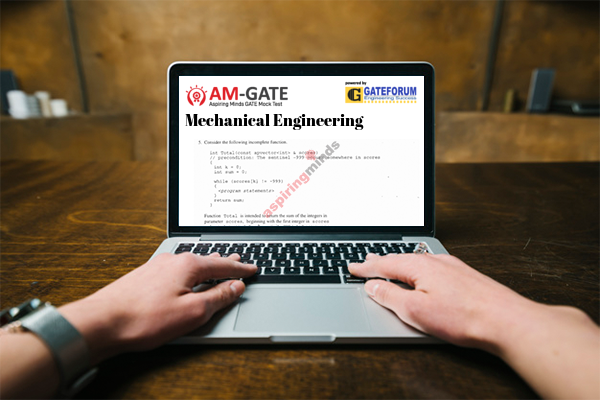 Today, in our GATE Exam syllabus series, we are looking to cover the GATE Exam 2019 syllabus for Mechanical Engineering and guide you on how best you can prepare for it. Also, we will be having a look at the GATE exam cut-off for the last four years, so that you get an idea of where you need to stand to get your dream college or company.
In this article, we will also take a look at the best books to help you on with your GATE Exam 2019 preparation. So, come, take a look…
GATE Exam 2019 syllabus – Compulsory Sections
General Aptitude
One of the compulsory sections, General Aptitude consists of 15% of the total marks weightage. This section is further divided into two categories – Verbal Ability and Numerical Ability.
–  Verbal Ability Syllabus
Sentence Completion
English Grammar
Verbal Deduction
Verbal Analogies
Critical Reasoning
Word Groups
Instructions
– Numerical Ability Syllabus
Numeric Estimation
Numeric Computation
Numeric Reasoning
Data Interpretation
Sample Questions –
The perimeters of a circle, a square and an equilateral triangle are equal. Which one of the following statements is true?
The circle has the largest area
The square has the largest area
The equilateral triangle has the largest area
All the three shapes have the same area
Find the missing group of letters in the following series:
BC, FGH, LMNO, ____
UVWXY
TUVWX
STUVW
RSTUV
"The dress ______ her so well that they all immediately ______ her on her appearance."

The words that best fill the blanks in the above sentence are
Complemented, complemented
Complimented, complemented
Complimented, complimented
Complemented, complimented
Engineering Mathematics
Engineering Mathematics is a part of most of the GATE exam 2019 papers. It also carries a 15% weightage.
Linear Algebra
Probability
Statistics
Calculus
Differential Equations
Numerical Methods
Complex Variables
GATE Syllabus For Mechanical Engineering
The GATE Exam 2019 syllabus for Mechanical Engineering ensures that you are well aware of the subject and have a thorough understanding of it. Here, only bookish knowledge will not take you too far.
Applied Mechanics and Design –Engineering Mechanics, Machine Design, Theory of Machines, Mechanics of Materials, Vibrations.
Fluid Mechanics and Thermal Sciences –Heat transfer, Thermodynamics, Fluid Mechanics, Applications.
Materials, Manufacturing and Industrial Engineering –Engineering Materials, Machine and Machine Tool Operations, Casting, Forming and Joining Processes, Metrology and Inspection, Inventory Control, Computer Integrated Manufacturing, Product Planning and Control, Operations Research.
Sample questions –
During solidification of a pure molten metal, the grains in the casting near the mold wall are
Coarse and randomly oriented
Fine and randomly oriented
Fine and ordered
Coarse and ordered
The preferred option for holding an odd-shaped workpiece in a centre lathe is
Live and dead centres
Three jaw chuck
Lathe dog
Four jaw chuck
The arrival of customers over fixed time intervals in a bank follow a Poisson distribution with an average of 30 customers/hour. The probability that the time between successive customer arrival is between 1 and 3 minutes is
______ (Correct up to two decimal places).
 Recommended Readings –
– Engineering Mechanics by R. K. Rajput

– Engineering Mechanics by Beer and Johnston

– Engineering Mechanics by U. C. Jindal

– Machine Design by V. B. Bhandari

– Strength of Material by Gere and Timoshenko

– Theory of Machines by Ratan

– Mechanical Vibrations by G. K. Grover

– Fluid Mechanics by R. K. Bansal

– Heat and Mass Transfer by J. P. Hollman and R. C. Sachdeva

– Engineering Thermodynamics by P. K. Nag

– Manufacturing Science by A. Ghosh and A. K. Mallik

– Modern Production/Operations Management by Buffa and Sarin
These books can help you get your concept cleared and aid you in practising for the GATE Exam 2019. If studied thoroughly, these books will cover almost all the GATE syllabus and give you a thorough understanding of the subject.
GATE Exam cut-off
The GATE exam cut-off or qualifying cut-off is released after the exams each year. However, while the qualifying cut-off means that you have cleared the minimum marks requirement criteria, the cut-off for each college and PSU is still different.
| | | | | |
| --- | --- | --- | --- | --- |
| CATEGORY | 2018 | 2017 | 2016 | 2015 |
| General | 34.7 | 32.87 | 29.6 | 32.73 |
| OBC | 31.2 | 29 | 26.6 | 29.46 |
| SC/ST/PD | 23.1 | 21 | 19.7 | 21.82 |
Students who score below the qualifying cut-off won't be eligible for the GATE 2019 counseling.
GATE Exam 2019 Preparation
Of course, the first step to the GATE Exam preparation starts with knowing the exam syllabus well. However, there are other steps and tips that you must always keep in mind to excel at the GATE preparation and exam.
– Have a timetable
If you are studying on your own and have not joined any coaching institute, then this point is all the more important for you. Having a well-structured timetable can help you keep a track on your progress and how much effort and time you need to spend to cover the whole syllabus.
Also, when you prepare a timetable, make sure that you are leaving enough room for revision.
– Revise well
It goes without saying that you should revise well for the GATE exam if you really want to do well. Revise the whole syllabus and the important questions at least twice before the exam. This will help keep things fresh in your memory and you will be less likely to forget the concepts during the exam.
Also, ensure that you are making notes during your GATE preparation. Notes, while an important tool to help you remember whatever you study, can also aid you immensely in your GATE exam revision. So, make detailed notes which you will be able to comprehend easily in the future.
– Have an exam plan
Now you know the GATE exam consists of 65 questions with a certain number of questions from General Aptitude and Engineering Mathematics.
Many people find it much easier to attempt these compulsory papers but leave it for last since they do not contain a lot of marks. However, if you think these two sections are your strengths, then attempt them first. Similarly, devote the first hour in attempting the questions you are absolutely sure about.
In the next two hours, look at the heavier questions which will require more effort. And, of course, keep away from losing marks due to negative markings.
– Attempt GATE Mock tests
GATE Mock tests are another brilliant way to prepare for the GATE exam and do so thoroughly. With GATE Mock tests like the AM-GATE mock test, you get a first-hand experience of the GATE Exam environment as the test is conducted in a very similar setting.
Similarly, you also get a better idea of the questions and most importantly how well you are able to navigate through the questions and manage your time. Once you get an idea of your strengths and weaknesses, you can do a better job at ensuring that your preparation goes well.
Also, with AM-GATE mock test you can clearly see where you stand among your peers looking to make it big with the GATE Exam 2019.
So, now that you know what the GATE Exam 2019 syllabus for Mechanical Engineering is, the books you should refer to and the previous years' cut-offs, you can start your GATE Exam preparation anew and ensure that you leave no stone unturned to excel at it. Start preparing with AM-GATE Mock Test 2019. Register Here!