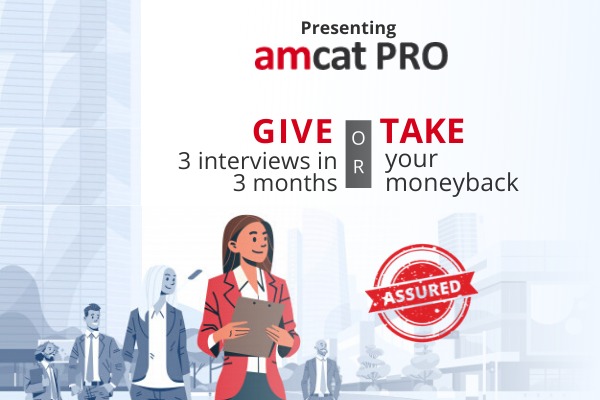 AMCAT or the Aspiring Minds Computer Adaptive Test does a great job of bridging the gap between recruiters and job seekers. However, taking the high competition into consideration, we decided to do something better and bigger. The result being; AMCAT PRO: The Interview Assurance Program by AMCAT.
What is AMCAT PRO all about?
AMCAT PRO is an interview assurance program by AMCAT that comes with a guarantee of three interviews in three months or your moneyback.
These interview offers will be basis your AMCAT score and the membership for which you qualify, i.e. Gold, Silver and Bronze. AMCAT will curate these job interviews and send them to you via emails. You will also be able to access these interview opportunities on your AMCAT dashboard.
| | | | |
| --- | --- | --- | --- |
| Score across all modules | Score in Automata Fix | Membership | CTC of the jobs |
| 500+ | 46+ | Gold | 5 LPA+ |
| 450+ | 31+ | Silver | 4 LPA+ |
| 400+ | 16+ | Bronze | 3 LPA+ |
Are you eligible for AMCAT PRO?
Candidates who have passed out in 2019 and have a full-time degree approved or/and recognised by AICTE/UGC are eligible for the interview assurance of AMCAT PRO.
As for candidates from other batches, you can opt for the normal AMCAT, get a good AMCAT score and apply for the opportunities available on the AMCAT portal. AMCAT hosts a lot of great job opportunities that can be yours is you score well in the AMCAT exam. So, don't underestimate its value.
AMCAT or AMCAT PRO?
AMCAT can be a great option for candidates who are on their job search. It comes with a horde of opportunities that you can apply for with just a few clicks.
However, AMCAT PRO comes with an interview assurance of minimum 3 interviews or moneyback. That makes it a much better option for you since it ensures that you win in every situation.
So, make your choice right away, step on the success gear and jump-start your career.