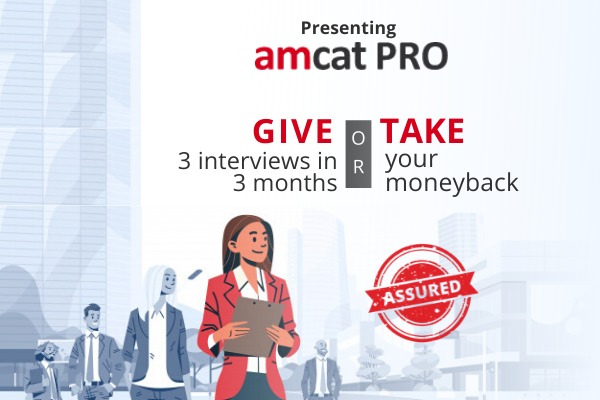 AMCAT PRO: The Interview Assurance Program, as the name suggests will get you assured interview calls based on your AMCAT score.
AMCAT PRO is an advanced version of AMCAT because unlike AMCAT, you will get at least 3 interview calls in 3 months, it is our guarantee. Moreover, based on your AMCAT score, you will be put into three categories – Gold, Silver and Bronze. The LPA of your interview calls depends on your AMCAT score.
Good AMCAT Score For AMCAT PRO
As you all already know, the AMCAT is an employability exam which helps bridge the gap between the job seeker and the recruiter. And, not just that, through your AMCAT score, you can show the recruiter how skilled and job-ready you are. Now, comes the question of what is considered a good AMCAT score for AMCAT PRO.

In the above-mentioned table, you can find the required scores for each category. Moreover, depending on the category for which you qualify, AMCAT will send you interview calls. However, if you get less than 400 in any of the required modules, then you are not eligible for the AMCAT PRO assurance.
How To Get A Good AMCAT Score?
You already know the kind of score you need to get in the AMCAT exam to get the highest LPA possible. So, to help you with your AMCAT exam preparation, here are a few tips that will help you take your preparation to another level.
AMCAT Exam Syllabus
The first step in your preparation is to get your hands on the syllabus of both the compulsory and the optional modules. Knowing the syllabus will help you create a game plan to cover all the important topics.
Sample Papers
Your preparation is incomplete without practising and for that you need to start solving sample questions as soon as possible. This will help you identify the type of questions or topics that you might not be good at. Moreover, it will help you increase your question-solving speed.
PrepAMCAT
To boost your preparation even further, you should start giving mock exams. PrepAMCAT is the simulated version of the actual AMCAT exam. Practising with PrepAMCAT can help you understand both your strengths and weaknesses.
Use these tips to get a good AMCAT score and enjoy the benefits of AMCAT PRO. Prepare well and start your career with an assurance.