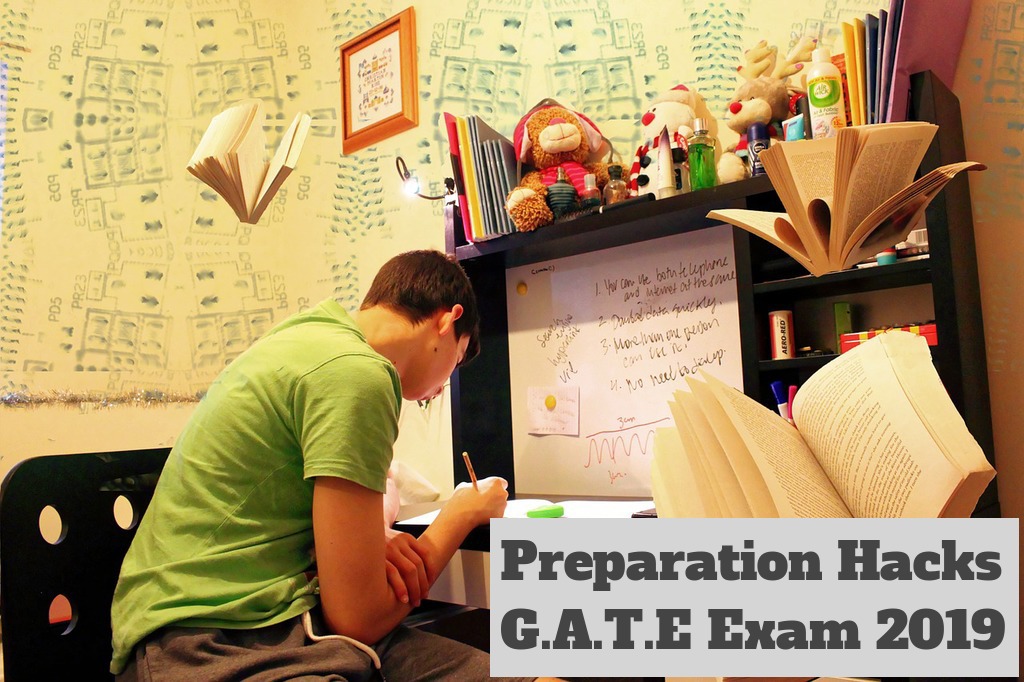 There are only a few months left for the GATE exam 2019. And, if you have not already started preparing for it, then you really need to pull up your socks and bury your head in your books.
It usually takes around 5 – 6 months to get the whole GATE exam preparation on point. However, before you lose hope and assume all is already lost, let us introduce some quick GATE exam tips for you to follow.
Go through the syllabus
Pretty obvious but pretty important!
The first step for a successful GATE exam 2019 preparation would be to know the syllabus thoroughly. You wouldn't want to miss out on an effective preparation just because you were not fully aware of the syllabus.
We have done a detailed study of the GATE exam syllabus for the top five courses, Mechanical Engineering, Computer Science Engineering, Civil Engineering, Electrical Engineering and Electronics and Communication Engineering.
You can consult these blogs to understand the GATE exam syllabus and which are the books that you should follow for an impressive GATE exam preparation.
Divide the syllabus
Now that you know the syllabus for the GATE exam 2019, divide it into three parts. Easy (which would require least efforts), medium and tough. Now put the topics in each section according to how confident you feel about them.
Start with the easiest section first. Yes, why not work and strengthen the topics that you are already familiar with?!
Once you are done with them, move up the ladder. However, ensure that you are able to complete or at the least go through all the topics well before the final exam.
Have a timetable
Since you are short on time, a timetable would be all the more helpful for you. Of course, don't set an impossible timetable for yourself. Instead, divide your time in such a manner that you would honestly be able to follow it through. Once you have done so, stick to it.
Also, ensure that you have enough space left for revisions and that you are solving sample papers almost every day. If you are not very sure about that, then solve at least two sample papers at the end of every week.
Know the marks division
It doesn't matter which section you solve first and which last, at the end of the day it is how much you score overall that matters. So, know all about how the marks are divided and which section carries the most marks.
General Aptitude carries a total of 15% of marks and so does Engineering Mathematics. The rest of the marks are devoted to your core subject.
See which sections are easier to score in
Many people believe that General Aptitude is a lot easier to work through than all other sections while some have a preference for Engineering Mathematics as the syllabus is restricted and very basic.
So, if you keep your focus on these two sections, then you stand a good chance of doing well enough in the exams. For rest of the marks, of course you will have to focus on your core subject.
Know the cut off for previous years
It is important to understand what the cut off has been for the last three to four years. Of course, each IIT and PSU comes up with its own individual cut off after the results are announced but there is also the qualifying cut- off that you can focus on.
The GATE exam cut-off for the year 2018 has been –
| | | | |
| --- | --- | --- | --- |
| BRANCH | GEN | OBC | SC/ST/PH |
| Computer Science Engineering | 25.00 | 22.50 | 16.60 |
| Civil Engineering | 26.90 | 24.20 | 17.90 |
| Electrical Engineering | 29.10 | 26.10 | 19.40 |
| Electronics & Communication | 25.00 | 22.50 | 16.60 |
| Mechanical Engineering | 34.70 | 31.20 | 23.10 |
However, do keep it in mind that the cut-off is only to indicate the minimum marks you would need to succeed in GATE exam 2019 and not the maximum.
Also, the cut-off is released every year and different for different subjects. However, it doesn't vary all that much, so you can take some idea of what is expected of you.
Opt for Mock GATE tests
Mock GATE tests can really help you prepare well for the GATE exam 2019. Mock GATE tests like the AM-GATE Mock 2019 are fashioned after the GATE exam itself and the questions are compiled by the esteemed teachers of top coaching centre GATEFORUM.
With AM-GATE you also get to compete with other GATE aspirants and see where you stand and how your GATE preparation is going.
If you are smart enough and eager to learn, then you can take a lot home from your AM-GATE results and start to work anew on your strengths and weaknesses.
Exercise
While it is important to prepare, know the syllabus and just keep practicing over and over again, it is also important to exercise. Exercising is known to keep people's brain healthy and help them retain information faster and longer.
And, you can only perform your best if your body and mind are in optimum condition. So, whatever happens, don't forget to take out some time every day to exercise and then start grueling yourself.
GATE exam 2019 is fast approaching and you would need all your efforts on board to swim out successfully. So, start preparing right away, and make a timetable and stick to it. And, whatever happened, believe you will succeed and ultimately you will.